February Half Term Chemistry Chaos Workshop – 15th February 2023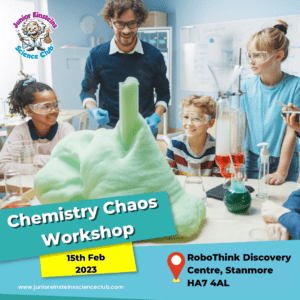 Date – 15th February 2023
Venue – RoboThink Discovery Centre, 34 Church Road, Stanmore, HA7 4AL
Timing – 9.30am to 12pm
It's going to be a CHAOS FULL OF CHEMICALS!!
LET'S HAVE SOME FUN WITH VOLCANOES, ELEPHANT'S TOOTHPASTE, AND LOTS MORE!! 
It is suited for primary school-aged children from 5 years to 8 years old. Children are supplied with all scientific materials.
They do not need to bring anything to the workshop, just a small packed snack, and a bottle of water.
Cost – £30
Sibling Discount Available (contact us to claim it)
*We also accept CHILDCARE VOUCHERS!!!* – Contact us to know how you can use them to book!
Contact us at nwlondon@junioreinsteinsscienceclub.com or phone 07429 878911 
Please note, We don't offer refunds.