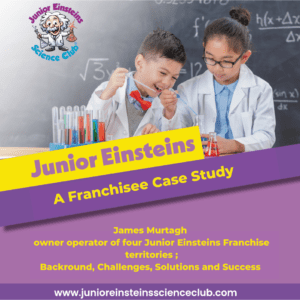 A Franchisee Case Study
James Murtagh owner of four Junior Einsteins Science Club® franchise territories
Challenges, Solutions, Success!
Background James Murtagh; 
I am a BBS Equine Studies, Maynooth University Graduate. My career began in the veterinary & equine industry as a Groom & Training Yard Manager for four years alongside my studies. Upon graduating, I moved to Abu Dhabi, working as a STEM Teacher & Primary Science HOD. I then began my role as a Sabis Schools International Program Coordinator for Ashwicke Hall in Bath, UK. I moved back to Ireland & worked as an Activity Coordinator at Junior Einsteins Science Club HQ in Dublin. I am now a Franchisee of Junior Einsteins Science Club in North & South Dublin, County Meath & County Westmeath.
Timeline of taking on Junior Einsteins Meath to  South Dublin and some reasons for expansion  ;
March 2020: First franchise of County Meath
August 2020: Second franchise of County Westmeath
February 2022: Third Franchise of North & West Dublin
August 2022: Fourth Franchise of South Dublin
For me, the high demand for Junior Einsteins Science Club®'s services translated into a low risk & future proof investment. Having made my return on my initial investment within three to four months, I began planning to expand into new territories to offer the services to as many children as possible. The business has a year round cash flow from its large number of revenue streams. This has afforded me with the opportunity to reinvest & expand the business at a steady & sustainable pace.
Challenges:
Recruitment & training of staff can be a challenge when starting out. It can be a time consuming process initially. My teams come from a diverse range of backgrounds within STEM & education. You can not approach recruitment in this business as a "one size fits all" strategy due to the diverse range of services that we offer throughout the year. Recruitment & training is hands-on and requires a worthwhile investment of time & energy at the early stages.
Attracting new customers early on can be challenging without employing the right strategy. Create a strategy and be consistent. Once you implement the best strategies, it will help to accelerate the momentum of marketing efforts & prove valuable in attracting & retaining new customers.
Solutions:
The Junior Einsteins online Training Academy has helped tremendously with recruitment & training of staff. It provides an extensive yet clear structure of the recruitment processes to successfully source, recruit & train staff. It is easily accessible & user friendly for franchisees.
Franchisees are provided with a built in CRM on their territory's webpage with sales funnel. This has helped with the organisation of customer information & establishing a growing base of repeat customers.
Results:
Within 3-4 months of opening, James' Junior Einsteins Science Club® locations had exceeded its revenue targets, and had built a strong customer base in the local community. The franchisee credits Junior Einsteins Science Club® franchise HQ comprehensive support system with helping him to overcome the challenges of starting a new business in a competitive market.
Conclusion:
The Junior Einsteins Science Club® franchise system provided James with the tools and support he needed to build a successful business  across four franchised locations. By providing comprehensive training and ongoing support, the franchise helped James to overcome the challenges of starting a new business and building a loyal customer base. Today, James' Junior Einsteins locations are showing continuing growth and success within the Junior Einsteins Science Club® franchise system.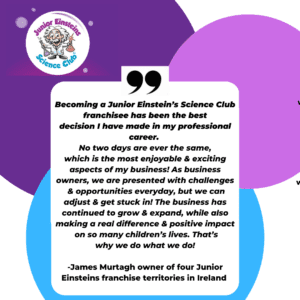 Junior Einsteins Science Club® Franchise
Children's STEM Education Business
If you are passionate about education, enjoy working with children and have an interest in science, our proven and profitable business model may be the ideal business for you. You can confidently invest in a Junior Einsteins Science Club® franchise business, knowing that you will receive the necessary supportive advice and essential tools to launch and grow your business successfully.
Established in 2012, Junior Einsteins Science Club® offers a unique opportunity to join an ambitious brand who are passionate and dedicated to inspiring a love of science and learning in primary school children. Junior Einsteins Science Club is scientist designed and recognised globally for providing fun, hands-on science events for children, nurturing their imagination, creativity and curiosity and building confidence, resilience and team work within a safe structured environment. Crowned Winner of Richard Branson's International business award 'Voom' in 2018 the business has gone from strength to strength and is proud of its outreach with the United Nations.
Since launching the franchise model, the development and delivery of high-quality, interactive events across Ireland and the UK with a network of franchisees and their science instructors that champion the Junior Einsteins Science Club® vision and values has been of the vitally important. In order to develop its services and ensure the brand stays relevant, partnering with a variety of organisations such as The United Nations, the Royal Academy of Science International Trust, Girls for SDGs platform, Virgin Media Business as well as many Universities and education centres.
Founded and designed by a female scientist and Mum of three young children, the focus and passion of the junior Einsteins Science Club company has never been stronger with innovation and creativity at the forefront of its investment including a bespoke software platform and online booking and payment system that plays a fundamental role in how both the company and its franchisees operate. They have an online  'Junior Einsteins Academy' for training of franchisees and their staff. With built in CRM and each franchisee having their own territory's webpage Junior Einsteins Science Club® encourages both independence and collaboration.
The Franchise Opportunity
The ethos behind the franchise model combines a supportive approach and strong return on investment for those willing to work hard and most importantly follow the proven methods developed by the Junior Einsteins Science club® company.
With several business services, this multi-faceted business model supplies you with the training, guidance and essential tools to launch and grow your business successfully.
Franchise fee: On Request
This is a full time business opportunity. Each franchisee owns an exclusive territory and has the flexibility to run at the level you wish to commit to knowing that the scalability is there to make a real impact on your local community and your profit margin.
By becoming a franchise within  the Junior Einsteins Science Club brand you will be a valuable member of the global team and will benefit from the following:
Key Benefits
Joining Junior Einsteins Science Club an award-wining established and globally recognised children's education business
A protected trademark and extensive intellectual property
Bespoke Software management and payment platform to manage your business, events, customers and science instructors
Access to the online 'Junior Einsteins Academy' for training of both franchisees and their staff
Your own territory's mini-webpage within the main Junior Einsteins Science Club website with dedicated CRM for your specific territory.
Extensive start up package including equipment, materials, marketing and  advertising collateral
A full yearly calendar of events that follow the school calendar
14 day induction with ongoing bi-monthly business and coaching support
Active pre-business planning and launch to kick start your business
Who are we searching  for?
Junior Einsteins Science Club® is selective about who they recruit and look for exceptional people who demonstrate drive and motivation to start their own business and above all passionate about education and STEM and becoming best in class in children's education events in their community
We grant franchises to those who share our ethics and values. Our shared vision and mission are key to the continued success of the brand. A passion for children's education and an interest in science are important. Previous business experience is useful however not essential as the franchise support team will ensure you receive a full induction training and launch to maximise your business success.
Company Values and Core Behavioural Traits
Passion for working with children and inspiring children to love science and learning.
Hardworking, ambitious with a positive attitude and ability work independently
Self-motivated within the collaborative franchise support network
Strong communication skills demonstrating ownership and integrity
Capacity to adhere to the franchise operating system, including specific guidelines for running the business.
Great leader & mentor to manage and inspire a team of science instructors
Show initiative, innovation and a strong desire to succeed both personally and professionally
Focused on finding solutions rather than dwelling on challenges.
Flexibility of thinking and highly adaptable and able to quickly assimilate information and identify and  manage challenges in a fast-paced ,dynamic environment.
Strategic thinker and decision maker with a long-term success in mind
Above all be proud of what we do teaching children 'How to think', not 'What to think' best preparing them for our ever changing world.
 Next Steps;
Complete our enquiry from and learn more about about the Junior Einsteins Science Club®'s franchise opportunities globally;
Email; Franchise@junioreinsteinsscienceclub.com
Awards & Accolades
Our founder Tracey-Jane Cassidy is Speaker United Nations 'International Women and Girls in Science Day' New York February 2020
Junior Einsteins Science Club are in  partnership with RASIT & The United Nations bringing STEM events to children globally
Winner First prize International VOOM 2018 Richard Branson Virgin Media Business Award
Nominated Best Children's Franchise in The Global Franchise awards Las Vegas February 2021
Named in 'Top 100 most influential women in franchising 2020 ' Global Franchise magazine
Winner 'Best Emerging Franchise' The Franchise Awards Ireland  2019
Nominated 'Children's Franchise of the year'  The Franchise Awards Ireland  2019
Awarded Business All Stars Ireland 2019 
Shortlisted for IMAGE business woman of the year 2016 Ireland
Shortlisted for the IMAGE Businesswoman of the Year 'Entrepreneur of the Year 2019
Keynote Speaker Northern Ireland Women in Business Awards 2018
High Energy STEM Events
We are proud of our Award-winning hands- on STEM for kids ! Everything we do here at Junior Einsteins Science Club® is because we are passionate about bringing STEM to young children in a fun filled high energy way.  Our events are very child-centric and all of our children are our 'Junior Einsteins' ! We nurture children's natural curiosity & creativity. We inspire our 'Junior Einsteins' to use their imaginations, make a mess, explore and discover. We do this through fantastic interactive experiments from slime making children learn about long chain polymerisation and Non-Newtonian fluids. A Barbie Doll gets a hair raising experience on a Van Der Graaf generator while children learn about voltage and current. Lighting a light sabre with a plasma ball we learn how electricity flows! We inspire our 'Junior Einsteins to explore a broad range of STEM subjects learning by doing; Fossil making, Forensics, Arctic Animal Adaptations, Classification of Life, Rocket Races, Bug Hunts, Illusions and how cartoons are made, Geology and Volcanoes, Bernoulli's effect and how planes fly, marine biology, quantum physics using Nerf guns. Microbiology, Chemistry ;  PH Purple Power & Exothermic reactions making elephant's toothpaste, Magnets, Light, Anatomy ,Engineering , covering STEM & STEAM areas. Learning through tons of fun!
We teach children 'How to Think, not What to think ' , best preparing them for our ever changing world. We hope our 'Junior Einsteins' will build their love of Science in Primary / Elementary School and choose science as a subject in secondary/high school and on to third level. We need more scientists !
We do this through Science Parties, Science Camps at Easter, Hallowe'en , Mid-Term & Summer, after-school science clubs, Saturday Science Clubs, School Science Shows and STEM Workshops. Science Corporate Events, Science Family Events & Festivals.
Our children's STEM education Franchise opportunity is ideal for those who are passionate about Science and education & who love to work with children. If you are hard-working and ambitious, want to own your own business and have access to the investment capital we would love to begin the recruitment process with you to become a Junior Einsteins Science Club owner operator.
INTERESTED IN A FRANCHISE OPPORTUNITY: Franchise@junioreinsteinsscienceclub.com

What We Do
We provide science after-school clubs, during school clubs, whole-of-school science shows, summer, Halloween and Easter science camps and science birthday parties, along with science corporate and family events and festivals.
Through our bespoke science-based programmes, we develop children's personal confidence and self-esteem. We promote creative thinking, teamwork, imagination and problem-solving abilities. We teach participants "how to think…. not what to think", which prepares students for the unpredictability of the future challenges they will face in our constantly changing world.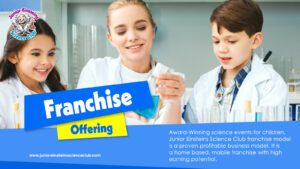 Benefits of Joining Our Team
The business can be run as a home-based mobile franchise.
Recurring revenue generated.
Simple business model.
Full annual calendar of events.
Many income streams.
No permanent physical event space needed.
Easy to maintain existing customers and to grow new ones.
Schedule of activities follow the school calendar.
No ongoing rent or rates to pay.
Significantly high turnover potential.
Comprehensive training provided.
Recession-proof business model.
The Franchise Pack
All  Junior Einsteins Science Club franchisees will receive:
Initial start up equipment and materials required to run shows and events per week to the value of €10,000.
Comprehensive hands-on training in all aspects of your franchise business over two full weeks, including also five weeks of intensive business training on Zoom.
Access to the bespoke online training and support and payment system developed in-house exclusively for the Junior Einsteins Science Club® network of franchisees.
Permission to trade under the Junior Einsteins Science Club® trademark.
A copy of the comprehensive operations manual providing detailed step by step guidance and instruction on how to correctly run your Junior Einsteins Science Club® franchise business.
Access to the 'Junior Einsteins Academy' online
Continuous Business training and coaching
CRM ( Customer relationship management ) software built in to your own territory's webpage.
A programme of continuous ongoing support and guidance delivered through remote, online and face to face meetings across a number of areas including marketing, sales, research development, business management, themed experiments. business systems and child protection.
INTERESTED IN FRANCHISE OPPORTUNITY: Franchise@junioreinsteinsscienceclub.com
What support will you receive as a franchisee

?
Training: Our initial training is so comprehensive that we don't grant franchises until our "franchisees in training" have convinced us of their ability to successfully replicate the business model to the standards that we expect. Beyond the initial training, we conduct programmes of ongoing training as we continue to develop the business model, new science experiments, activities and programmes.
Operations: A comprehensive operations manual will be provided on loan to all successful franchisee candidates for the duration of the franchise agreement, detailing step by step guidance and instruction on how to correctly run and manage your JESC franchise in accordance with our proven business model.You will receive access to the 'Junior Einsteins Academy' online for further and continuous  training. 
Marketing: Along with benefiting from the advantages of a strong, internationally recognised and trusted brand, you will be provided with password protected access to our cutting-edge website and bespoke franchise drive to enable you to download, edit and customise a wide range of sales and marketing materials to assist you take sole responsibility for the promotion and success of your business locally. In addition, we provide the supports necessary to drive strong social media marketing campaigns across such platforms as Twitter, Instagram, Facebook, Linkedin and others.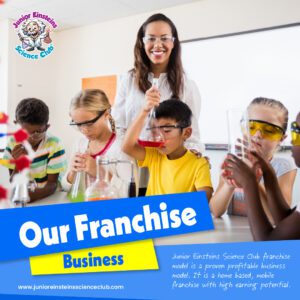 Administration: Understanding the importance of strong business administration and management, Junior Einsteins Science Club® have invested heavily in the development of integrated business management systems that drive the administrative side of the business model.
Research and Development: As programme developers, Junior Einsteins Science Club® are committed to developing additional themed science experiments over time, when required in order to broaden the appeal of the Junior Einsteins Science Club® to its existing and new customer base.
Our Franchisees
Our most successful franchisees have a passion for working with children and a desire to make a difference in their community. You don't need to have a background in science, although this has advantages but rather a big personality and strong sales and marketing ability with the drive to develop the business.
Junior Einsteins Science Club® franchises are generally granted to carefully selected, highly trained, passionate owner operators, who willingly run their franchise business in strict adherence to the systems, policies and procedures as set out in the Junior Einsteins Science Club® operations manual.
TESTIMONIAL FROM Co. KILDARE FRANCHISEE CLAIRE BRETT, IRELAND
Claire Brett has been working with us in Dublin as a science instructor of Junior Einsteins Science Club Ltd. in Dublin and has been inspired to bring STEM to the children of Kildare through this business opportunity.
Message from Claire ; I have a Bachelor's Degree in Science and experience as a manager in the health industry. I have broad ranging interests. I was drawn to becoming a Science Instructor with Junior Einsteins Science Club as I wholeheartedly support the company's aims. Junior Einsteins Science Club offers children an intuitive understanding of scientific concepts in a manner which is most natural to them, i.e through fun!. I chose to become the Junior Einsteins Franchisee for Co. Kildare, because of the robust systems the company employ in all aspects of business operation. I intend to deliver the highest standard of science education experiences to the children. These children will become the 'Junior Einsteins' of Kildare. Who knows what spark of interest will be ignited in these young people who will become the scientists of the future. Claire Brett , Owner Operator, Co. Kildare Franchise, Ireland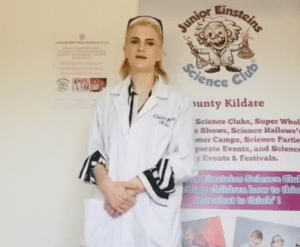 TESTIMONIAL FROM Co. MEATH FRANCHISEE, JAMES MURTAGH , IRELAND
Junior Einsteins Science Club Ltd. welcomes our new Meath franchisee James Murtagh! James has been working with us in Dublin as Senior Activity Coordinator of Junior Einsteins Science Club Ltd. and has seen how rewarding the franchise opportunity can be.
Message from James; "Having worked in the United Arab Emirates as a Mathematics & Science teacher, I quickly realised that there were amazing opportunities within STEM education in Ireland. I returned to Ireland & joined the Junior Einsteins Science Club team at its headquarters, working as a Senior Activity Coordinator.
Since then, I have experienced the impact that our work has had & continues to have on so many of our "Junior Einsteins" here in Ireland. That initial spark of interest in science in the classroom among our future engineers and scientists is amazing & truly rewarding as an educator! Whenever there's an opportunity or challenge coming our way we can adjust and jump right in! As Einstein himself said, "The important thing is to not stop questioning. Curiosity has its own reason for existing.
I am delighted & proud to be bringing hands on STEM to the "Junior Einsteins" of County Meath & look forward to meeting you all along the way" James Murtagh, March 2020
Prospective franchisees should be:
Ambitious.
Hard working.
A science-lover.
Disciplined.
Fun.
Independent.
Personable.
Enthusiastic.
Collaborative.