The Sunday Business Post article about the Junior Einsteins Franchise
Thank you to The Sunday Business Post for the great article. The Sunday Business Post Junior Einsteins Franchise

Junior Einsteins look forward to future opportunities to collaborate and contribute to the thriving franchise community globally.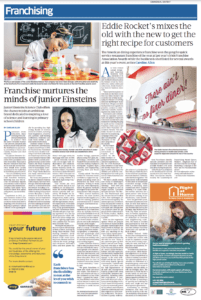 T
We are proud of our Award-winning hands- on STEM for kids ! Everything we do here at Junior Einsteins Science Club® is because we are passionate about bringing STEM to young children in a fun filled high energy way.  Our events are very child-centric and all of our children are our 'Junior Einsteins' ! We nurture children's natural curiosity & creativity. We inspire our 'Junior Einsteins' to use their imaginations, make a mess, explore and discover. We do this through fantastic interactive experiments
We teach children 'How to Think, not What to think ' , best preparing them for our ever changing world. We hope our 'Junior Einsteins' will build their love of Science in Primary / Elementary School and choose science as a subject in secondary/high school and on to third level. We need more scientists !
We do this through Science Parties, Science Camps at Easter, Hallowe'en , Mid-Term & Summer, after-school science clubs, Saturday Science Clubs, School Science Shows and STEM Workshops. Science Corporate Events, Science Family Events & Festivals.
Franchise Opportunities. Junior Einsteins STEM education franchise
Best after school club , Best Birthday Party, Best kids camps. . Science after school Club for children. Science experiments for kids. STEM activities . Junior Einsteins science club