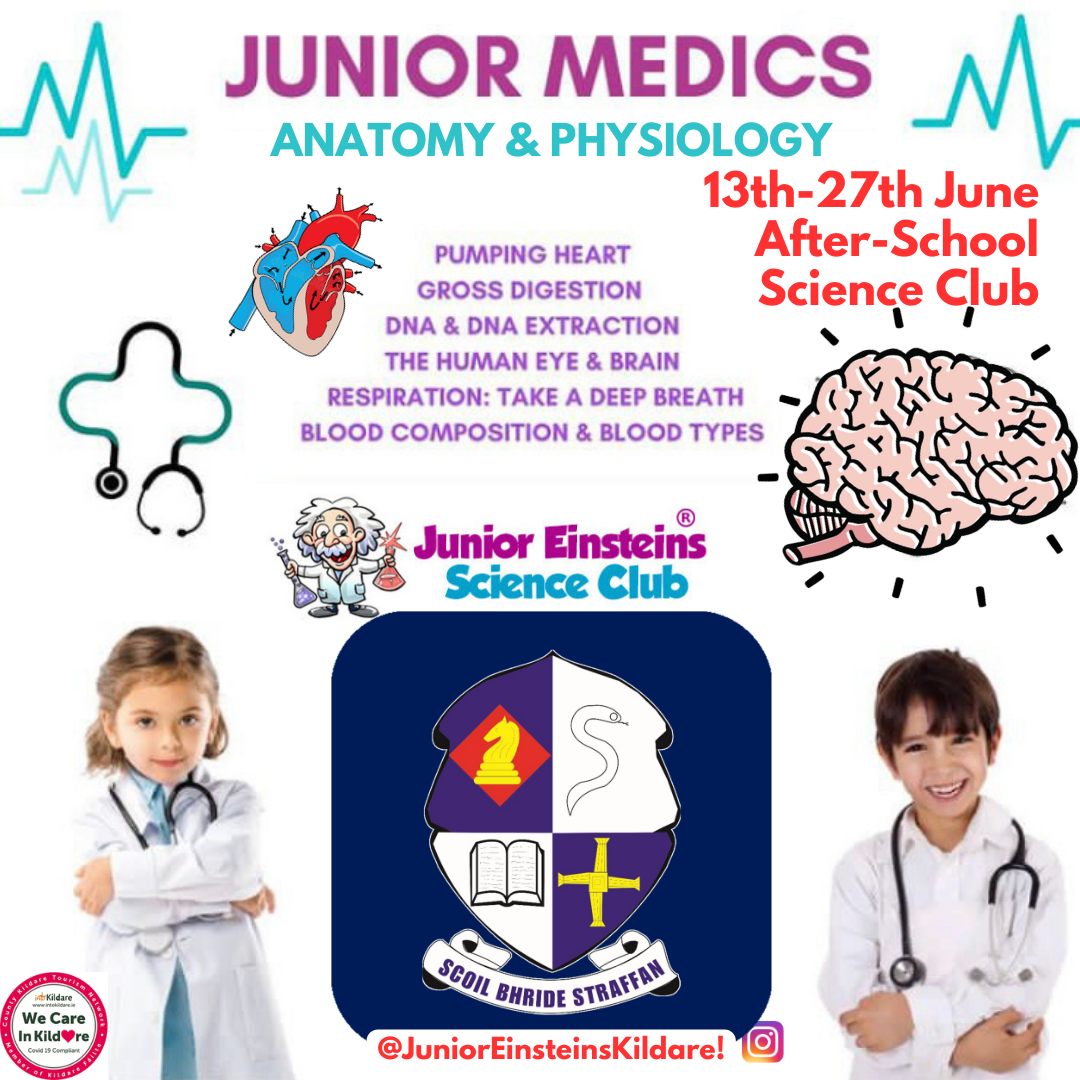 Straffan National School, 1st-6th Classes, Junior Medics After-School Science Club, 13th-27th June, 3pm-4pm
During this really fun, exciting and educational Junior Medics After-School Science Club, children will do lots of hands-on Anatomy and Physiology Experiments!
Children will investigate/ experience how circulatory system works. Through hands-on activities students will learn about the heart and its function. Students will investigate where blood comes from and learn about different blood types. Children will listen to their hearts and measure the difference in blood pressure, at rest and after a vigorous exercise. Children will understand the importance of taking care of our hearts and what can be done, to contribute to healthy heart.
We want children to discover that DNA is vital for all living beings – even plants.
It is important for inheritance, coding for proteins and the genetic instruction guide for life and its processes.
Children will perform  experiments to increase their understanding of DNA and it's role In heredity. 
During this course, children will learn so much about their amazing hearts and circulatory system, digestive system, DNA through DNA Extraction (it's easy!), the human eye and brain, as well as their respiratory system!
In addition, we will have exciting Junior Einsteins experiments!
Upcoming events as well as Summer Science Camps and Science Birthday Parties are available here; 
www.junioreinsteinsscienceclub.com/kildare
Social 
Instagram; 
https://www.instagram.com/invites/contact/?i=1okyu2mm6owt5&utm_content=eg3wkaf
Twitter;
https://twitter.com/einsteinkildare
Facebook;