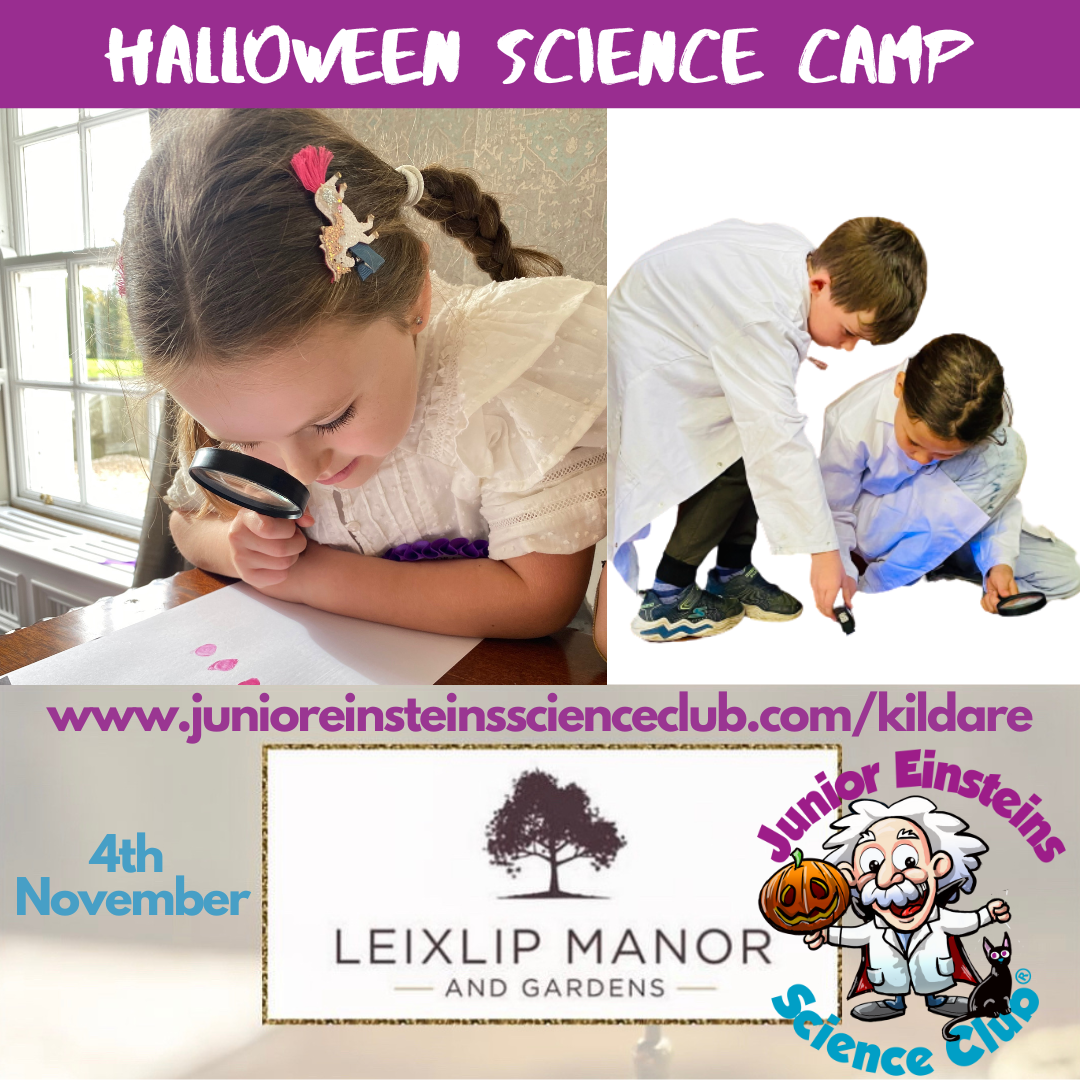 Leixlip Manor & Gardens, Halloween Science Camp, 04/11/23, 9am-2pm
Best Kids Halloween Camp The Leixlip Kildare. Science Camps for children. Science experiments for kids. STEM Camp. Junior Einsteins science club halloween camp
We hope Junior Einsteins are ready for Spook-tacular Science Fun!
This Halloween Science Camp takes place at Leixlip Manor & Gardens. 
During this Halloween Science Camp, children will do and make hands-on Science experiments that will be frightfully memorable!
Swamp Creature Slime; Children will investigate/experience the viscosity of different gross fluids. Through the process of making slime, children will become familiar with the properties of a non-newtonian spooky fluid. 
Freaky Fossils; Children experience handling real fossils millions of years old. Children learn how fossils are formed through a fun story about a dinosaur. Children engage in and geography both accessible and engaging. This approach encourages children to read key topics in science about and understand even complex ideas. Children make their own fossil to take home.
Forensic Crime Scene Analysis; To introduce children to the concept of forensic science. Using a fun crime scene, we explore all of the ways that a Crime scene Investigator discovers who the culprit of the crime is using scientific methods. Children use their imagination alongside science facts to find out Whodunnit! Using exciting methods such as DNA, Fingerprinting, Show rubbings, Black Lights and teeth marks we explore the evolution of the science of crime.
Frankensteins Barbie & Spooky Flying Saucers; Through the use of our University grade Van Der Graff Generator, children will safely observe Barbie having a spooky hair raising experience and watch saucers fly as if by alien intervention.
Vampire Blood; To help children gain an understanding of the codependency between Hydrogen Peroxide and Enzymes (yeast) as a catalyst to drive an exothermic reaction. Children love to see this bubbling red "Vampire Blood" reaction (red food colouring). Children feel the heat in the foamy result! Children will be fascinated by the observation of a chemical reaction and will enjoy that they can do one by themselves. During that process they will learn about chemical terminology like exothermic reaction and decomposition. They will learn that a catalyst speeds up chemical reactions and they will learn about the science fact behind it in this case about enzymes.
Take-Home Gross Witches Snot Slime; Through the process of making PVA and boron slime, children will investigate how we can make a different type of slime based on the concept of polymerization. Children will learn why scientists care about slime with their gross, stretchy witches snot slime! (Take-home Experiment)
&
Super Fun Halloween Experiments!
Suitable for 5-12 year old children. Children are provided with Scientist lab Coats and Goggles!
Social 
Instagram; 
https://www.instagram.com/invites/contact/?i=1okyu2mm6owt5&utm_content=eg3wkaf
Twitter;
https://twitter.com/einsteinkildare
Facebook;
https://www.facebook.com/junioreinsteinskildare
We'd love if they dressed up for even more fun!