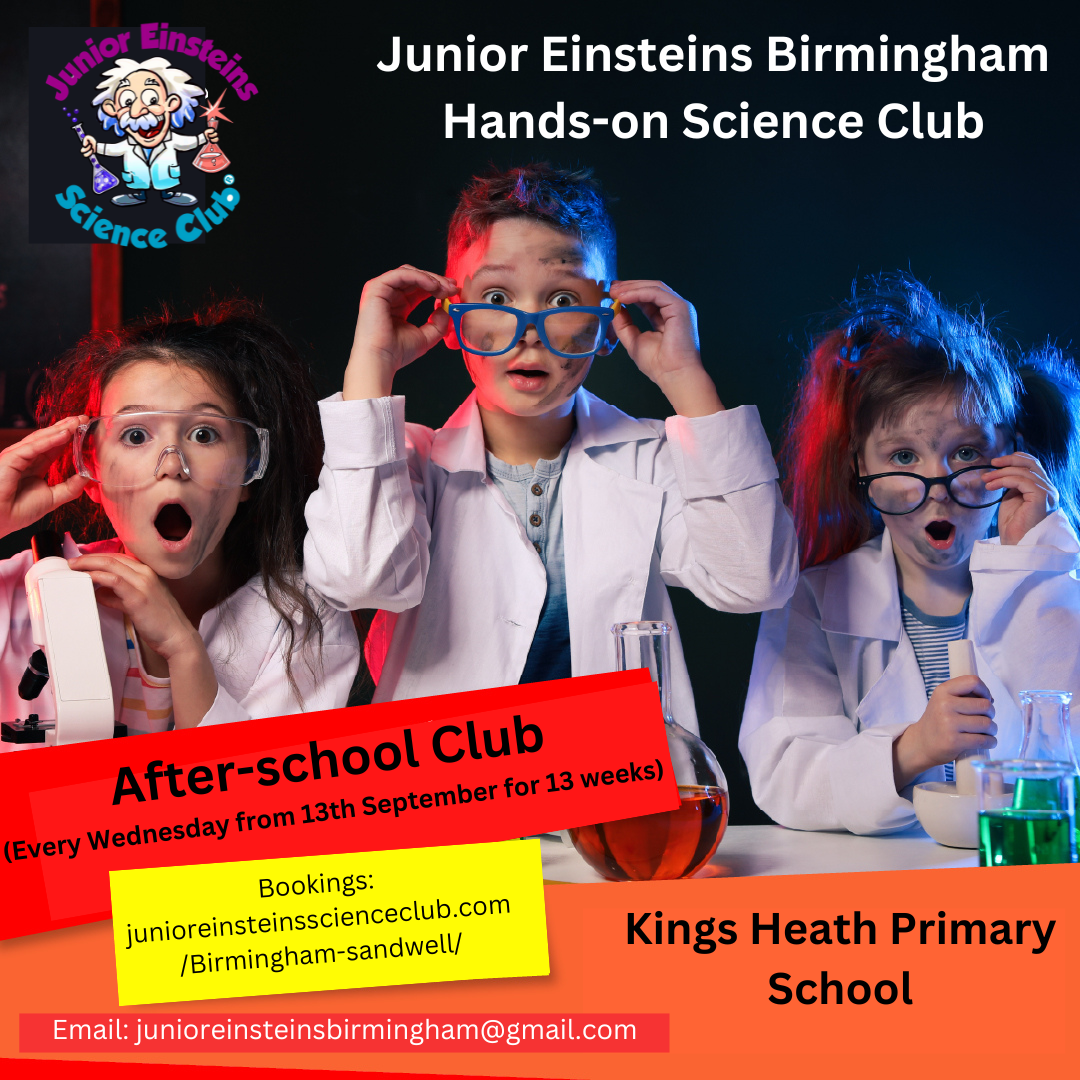 After-school Science club Kings Heath Primary School Birmingham
After-school Science club Kings Heath Primary School Birmingham
Science after school club for children.

Welcome to Junior Einsteins Science Club!
This after school club is only for children who attend Kings Heath Primary School, Years 3, 4, 5 & 6.

Junior Einsteins Science Club will run every Wednesday from 27th September until 13th December 2023 3.30 to 4.30pm . (11 sessions) MISSED TWO SESSIONS. Kings Heath Primary School Birmingham After-school club (years 3-6 only). Starting date Wednesday 27th September 2023 (11 sessions)
£115.50
We teach children 'How to think, not what to think', best preparing them for our ever changing world.  We hope our 'Junior Einsteins' will build their love of Science in Primary and Secondary school.  We need more Scientists! After-school Science club Kings Heath Primary School
If you have any questions please contact us by email: junioreinsteinsbirmingham@gmail.com
We set up an after-school science club at your child's primary school and send our own science instructor weekly. We also have Saturday Science Clubs running in your community. Science Clubs List science clubs for kids
Our Junior Einsteins After School Science Club & Saturday Science Clubs sessions include ;
Bug Hunts, Rocket Races
, Fossil making, Forensic Science , Quantum Physics, Anatomy, Illusions, Engineering, Marine Biology, Geology, Chemistry Chaos, DNA  and  more…  !
 Our Science after-school clubs 
& Saturday Science Clubs 
are very hands-on and children get to make and take home something most days including their own SLIME, FOSSILS, MODEL GLIDERS, RAINBOW GLASSES and MORE!
Our inclusive, hands-on approach is unique.  We are not a science class, the children make and do their own messy hands-on STEM experiments, using real scientific equipment including  Van Der Graff Generators & plasma balls ( Did we mention Nerf guns! ?)