31st August 2022 – Chemistry Overloaded! – Science Summer Workshops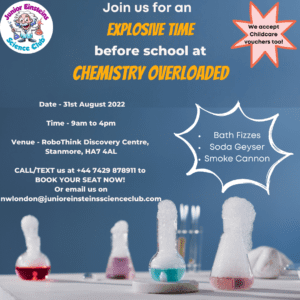 Date – 31st August 2022
Venue – RoboThink Discovery Centre, 34 Church Road, Stanmore, HA7 4AL
Timing – 9am to 4pm (12pm to 1pm – Lunch break)
Theme for the day : During the process of making bath fizzers, students will learn about chemical bonds. As this would be the last day of the summer workshops, we have a surprise experiment planned for the finale!! Want to know? Then join us on the 31st of August!
Suited for primary school-aged children from 5 years to 12 years old. Children are supplied with lab coats, goggles, gloves & all scientific materials. They do not need to bring anything with them to science camp, just a small packed lunch.
*We also accept CHILDCARE VOUCHERS!!!* – Contact us to know how you can use them to book!
Contact us at nwlondon@junioreinsteinsscienceclub.com or phone 07429 878911