Summer is just around the corner and if you're looking for an exciting and educational way to keep your kids engaged during the break, you may want to consider Junior Einsteins Science Summer Camps for primary school Kids. These week-long camps offer hands-on interactive STEM experiments for your 'Junior Einsteins' , allowing them to explore science in a fun and safe environment.
At Junior Einsteins Science Summer Camps for Kids, your child will be provided with a lab coat and goggles to really get into the spirit of being a budding scientist. They'll be able to conduct experiments with our fun, enthusiastic science instructors who will help them understand the scientific principles behind each exciting activity.
Everything we do here at Junior Einsteins Science Club® is because we are passionate about bringing STEM to young children in a fun filled high energy way.  Our events are very child-centric and all of our children are our 'Junior Einsteins' ! We nurture children's natural curiosity & creativity. We inspire our 'Junior Einsteins' to use their imaginations, make a mess, explore and discover. We do this through fantastic interactive experiments from slime making children learn about long chain polymerisation and Non-Newtonian fluids. A Barbie Doll gets a hair raising experience on a Van Der Graaf generator while children learn about voltage and current. Lighting a light sabre with a plasma ball we learn how electricity flows! We inspire our 'Junior Einsteins to explore a broad range of STEM subjects learning by doing; Fossil making, Forensics, Arctic Animal Adaptations, Classification of Life, Rocket Races, Bug Hunts, Illusions and how cartoons are made, Geology and Volcanoes, Bernoulli's effect and how planes fly, marine biology, quantum physics using Nerf guns. Microbiology, Chemistry ;  PH Purple Power & Exothermic reactions making elephant's toothpaste, Magnets, Light, Anatomy ,Engineering , covering STEM & STEAM areas. Learning through tons of fun!
But it's not just about conducting experiments, games and activities. Junior Einsteins Science Summer Camps for Kids also emphasise teamwork and critical thinking skills. Children will be able to collaborate with their peers to solve scientific problems, and they'll be encouraged to ask questions and think creatively about the world around them.
The camps are designed for children aged 6-12, with separate smaller age groups with the larger group to ensure that activities are faced paces but siblings can be together in the same venue. The lovely instructors are dedicated to creating a safe and supportive environment where kids can learn and have fun.
But don't just take our word for it. Here's what some parents have said about Junior Einsteins Science Summer Camps for Kids: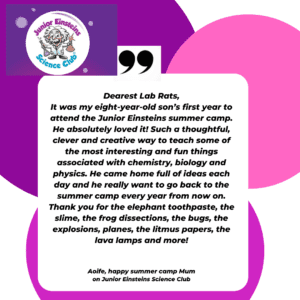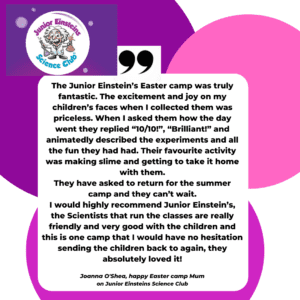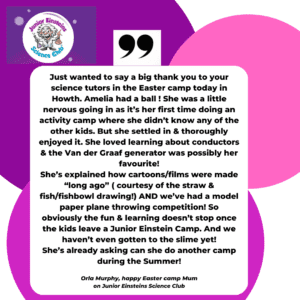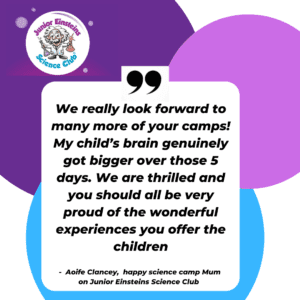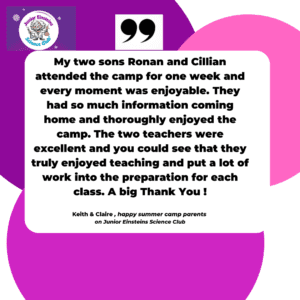 Junior Einsteins Science Summer Camps for Kids are a fantastic way for your child to spend their summer break. Not only will they have fun and make new friends, but they'll also be learning valuable skills and confidence that will set them up for success in the future. So why not sign up your 'Junior Einsteins'  for a week-long adventure in science ?  BOOK; www.junioreinsteinsscienceclub.com
#junioreinsteins #STEM #summercamp #kidscamp #scienceforkids #kidscamp #funforkids #kids #fun