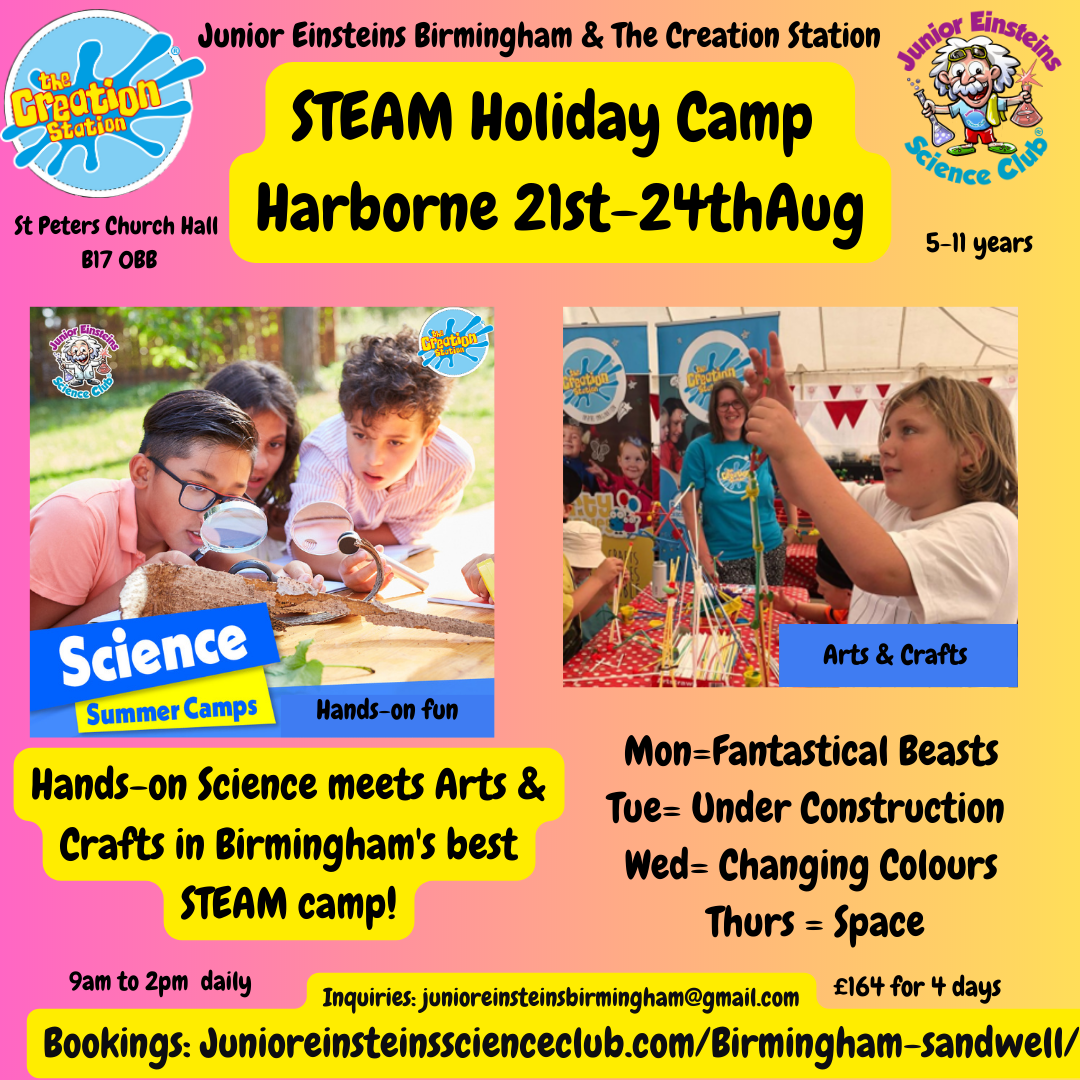 STEAM Science Summer Camp for kids-Harborne Birmingham
STEAM Science Summer Camp for kids-Harborne Birmingham
Best Kids Summer Camp Harborne Birmingham. Science Summer Camps for children. Science experiments for kids. STEM Camp. Junior Einsteins science club Summer camp Welcome to Junior Einsteins Science Club! STEAM Science Summer Camp for kids-Harborne Birmingham
STEAM Summer Camp! (Science, Technology, Engineering, Art & Maths) for Primary age children.
Hands-on Science meets Arts & Crafts in Birmingham's best STEAM camp!
Once again Junior Einsteins Birmingham are collaborating with The Creation Station Harborne to bring a fun hands-on, high energy summer camp for Birmingham kids!
Our Summer Camps  are very child-centric and all of our children are our 'Junior Einsteins' ! We nurture children's natural curiosity & creativity. We inspire our 'Junior Einsteins' to use their imaginations, make a mess, explore and discover. We do this through fantastic interactive experiments and art activities and lots of fun! Everyday will have a different theme.
Monday = Fantastical Beasts, Tuesday= Construction and Engineering,  Wednesday = Colour changes,  Thursday= Space.
What to bring: Old clothes – lab coats and art bibs are provided however science and art can be dirty work. Packed lunch, a snack and a couple of drinks. Rain gear, sun hat and sunscreen.
Summer STEAM Camp , St Peters Church, Old Church Road, Harborne, B17 0BB. Right next to the Bell Pub.  The church forecourt has limited parking, there is additional parking through the second gate on the left, downhill and on Vicarage Road.
Early bookings recommended to secure spaces **online bookings only** £168 for 4 days.
We teach children 'How to think, not what to think', best preparing them for our ever changing world.  We hope our 'Junior Einsteins' will build their love of Science in Primary and Secondary school.  We need more Scientists!
If you have any questions please contact us by email: junioreinsteinsbirmingham@gmail.com or emmamccallajohn@thecreationstation.co.uk