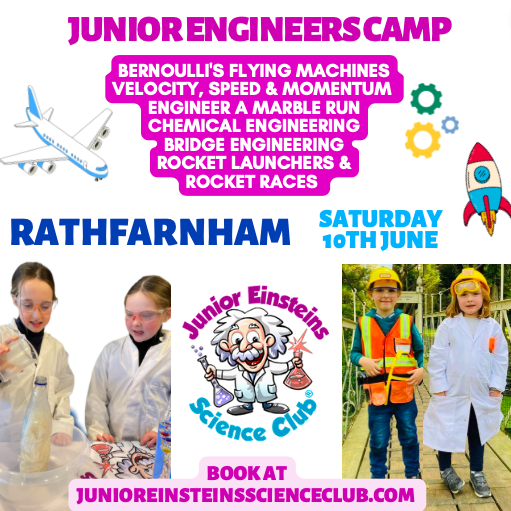 Rathfarnham – Junior Engineers Camp – Saturday 10th June
Venue: War Memorial Parish Hall, Rathfarnham Road, Terneure
Date & Time: Saturday 10th June (3:30pm -6:30pm)
Price: €45 per child.
Award winning STEM camps! Hands on science experiments including;
Bernoulli's flying machines: flying model gliders & aerodynamics, engineer a marble run: speed, momentum & velocity, chemical engineering with elephant toothpaste, wild wind: windmill engineering, rocket launchers & rocket races, bridge engineering & lots of fun STEM.
Children are grouped by age: 5 – 8 year olds (ATOMS) 9-11 year olds (MOLECULES)
Children are supplied with lab coats, goggles & all scientific equipment. They take home their own flying model glider & windmill from camp.
Enquiries to James at junioreinsteinssouthdublin@gmail.com
At Junior Einsteins Science Club we teach children 'How to Think, not What to think ', best preparing them for our ever changing world. We hope our 'Junior Einsteins' will build their love of Science in Primary School and choose science as a subject in secondary school and on to third level. We need more scientists !
Everything we do here at Junior Einsteins Science Club is because we are passionate about bringing STEM to young children in a fun filled high energy way.  Our science clubs & science camps are very child-centric and all of our children are our 'Junior Einsteins' ! We nurture children's natural curiosity & creativity. We inspire our 'Junior Einsteins' to use their imaginations, make a mess, explore and discover. We do this through fantastic interactive experiments from anatomy & junior medics, chemistry, palaeontology, ecology, marine science, ecology, quantum physics, engineering, forensic science, astronomy & lots more!