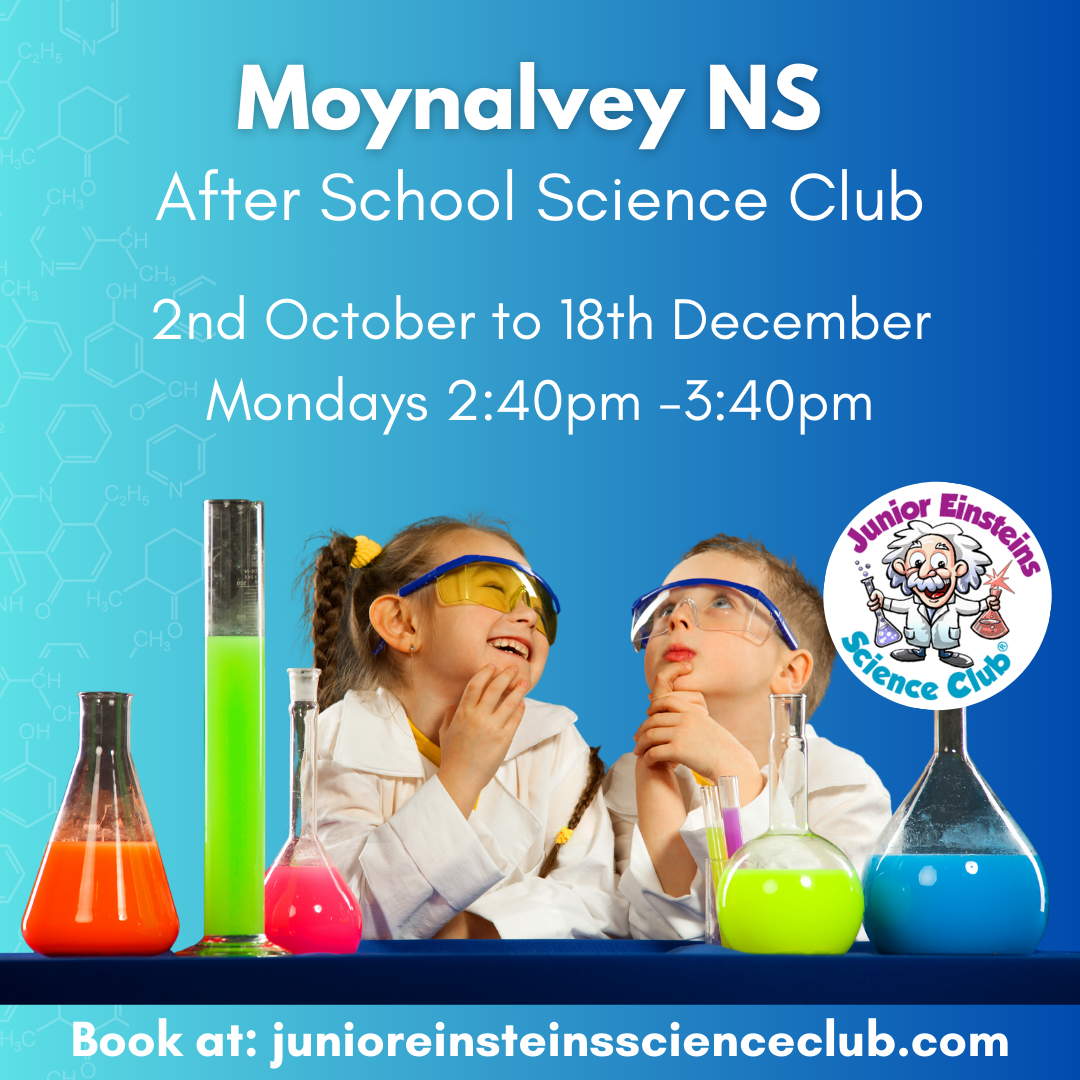 Moynalvey National School – After School Science Club- 2nd October to 18th December 2023 (Mondays 2:40pm -3:40pm)
Welcome to Junior Einstein's Science Club!
*This after school club is only open to the students of Moynalvey NS.
Junior Einsteins Science Club will run on Mondays from 2:40pm – 3:40pm.
11 week term from Monday 2nd October to Monday 18th December 2023 (No class during Halloween midterm on Monday 30th October)
Price ; €140        * Bookings are online only and on a first come first served basis
If you have questions please contact James by e-mail; junioreinsteinsmeath@gmail.com
New science experiments this term with our scientists including;
Marble run engineering: velocity & momentum, forensic science: crime scene investigation, fizzy science: make your now bath bombs, junior medics & anatomy: my anatomy in 3D, pumping heart, lava lamps & density, rocket launchers & rocket races, palaeontology: make your own fossils, pigments of imagination: colourful chromatography, blubber gloves, Arctic animal adaptations, geology rocks: grow your own Christmas crystals,
Children are supplied with lab coats & goggles. They make & take home their own experiments from science club.
We teach children 'How to Think, not What to think ', best preparing them for our ever changing world. We hope our 'Junior Einsteins' will build their love of Science in Primary School and choose science as a subject in secondary school and on to third level. We need more scientists !
Everything we do here at Junior Einsteins Science Club is because we are passionate about bringing STEM to young children in a fun filled high energy way.  Our science clubs are very child-centric and all of our children are our 'Junior Einsteins' ! We nurture children's natural curiosity & creativity. We inspire our 'Junior Einsteins' to use their imaginations, make a mess, explore and discover through hands on STEM experiments.