3rd August 2022 – Forensic Crime Scene – Science Summer Workshops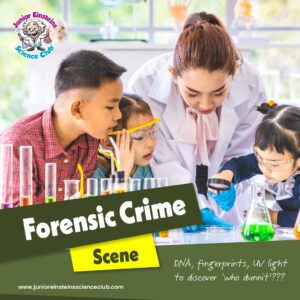 Date – 3rd August 2022
Venue – RoboThink Discovery Centre, 34 Church Road, Stanmore, HA7 4AL
Timing – 9am to 4pm (12pm to 1pm – Lunch break)
During the workshop :
We explore all of the ways that a Crime scene Investigator discovers who the culprit of the crime is using scientific methods.
Using exciting methods such as DNA, Fingerprinting, Show rubbings, Black Lights and teeth marks we explore the evolution of the science of crime.
Suited for primary school-aged children from 5 years to 12 years old. Children are supplied with lab coats, goggles, gloves & all scientific materials. They do not need to bring anything with them to science camp, just a small packed lunch.
*We also accept CHILDCARE VOUCHERS!!!* – Contact us to know how you can use them to book!
Contact us at nwlondon@junioreinsteinsscienceclub.com or phone 07429 878911 
Sold out!